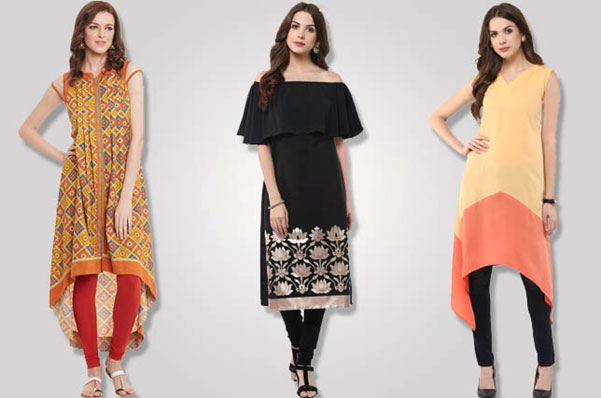 It is hard to believe that the sleeve on your outfit can determine your entire look. Different types of kurtis have different sleeve designs that have the ability to make you look formal, sophisticated, casual, stylish and elegant depending on how you style them. When going for an outfit, always ensure the design on the garments fit your body type, especially the sleeve
Here are few sleeve styles you should look out for when choosing the perfect kurti design
Cuff sleeves
They are simple rolled up sleeves that resemble the ones in formal shirts. They make an outfit look more indo-western than ethnic. You can wear cuffed sleeves on your ethnic attire to create a formal look. They are built in with several buttons and a key hole so you can adjust the length of your sleeve. The cuff sleeve is best suited for people with slim and tall figures.
Cuff sleeves look good on t-shirt like kurti. It has a structure resembling that or a real t-shirt except it is longer with a short high-low at the hemline. This kurti is created with collars and a pocket as well. It is the perfect casual look for college and social events.
Puffed sleeves
Puffed sleeves are made with multiple gathers that make them look puffy at the shoulders. They are not a new trend and have been around for quite some time. Thesesleeves go well with apple, square, inverted triangle and hour glass figures. If your shoulders are narrow, you can wear puffed sleeves to enhance your figure. They are stylish and go well with a-line kurti to create a chilled out and casual look.
Avoid adding more styles to puffed sleeves so you can maintain the look. Stay away from cover-ups and bottoms. Puffed sleeves can transform a kurti into a simple dress for picnics, strolls and branches.
Kimono sleeves
Kimono sleeves are Japanese inspired. They originate from the Japanese kimono traditional clothing. The kimono has wide, long and loose sleeves. The kimono sleeves are stylish and make your outfit appear chic and trendy. Kimono sleeves fit women of all body shapes and sizes.
These sleeves go well with flared, straight cut and layered kurtis. Make sure the length of the dress is average to avoid overpowering the sleeve. You can wear kimono sleeves to college, festivals and social gatherings depending on the make of the kurti. For a boho look, wear a knee-length flared kurti and accessorise it with a belt and fancy sandals
Bell sleeves
Bell sleeves resemble bell bottom pants. They are straight, tapered and form a large flare at the hemline of the sleeve. The start of the sleeve has a straight cut and the end is defined by a bell like structure. The sleeve can be long or short depending on the style of the kurti. The bell shaped sleeves fit women of all shapes with full figures.
Bell sleeve are currently trending in the fashion world. You can wear them in a-line kurtis, flared kurtis, and tapered kurtis to create different looks. The bell sleeves give off a trendy but sophisticated look. Pair a flared kurti with bell sleeves, with a pair of ankle boots for a indo-western street style look.
Full sleeves
Long and gull sleeves are the basic and most common sleeve types in kurti. They are best during winter because the keep your hands warm and comfortable. They are straight cut and run from the shoulders to the wrist in the same width. They make your kurti look basic and casual. If you are looking for an outfit that won't draw any attention to you, go with a full-sleeved kurti. You can use this look to shield your arms from the scorching summer heat and sunburns
You can dress this kurti with some leggings. Make sure the bottoms are fitting to avoid creating an oversized look. Full sleeves look good on a straight cut kurti. You can get a straight cut kurti from Stylecaret pair it with some cigarette pants for a formal look.
Cape sleeves
A cape is another hot fashion trend that Indian women love. Cape sleeves are overlaid on your kurti to make it look like you are wearing a cape. Sheer capes make your outfit sophisticated and elegant. This design fits women with narrow shoulders and small arms. If you have a slim, pear, hourglass and square figures you can rock this look well.
Kurti with cape sleeves can be worn to traditional ceremonies, festivals, casual events and college. Cape sleeves cover up your exposed areas and make your outfit more respectful. The cape sleeve goes well with mid-sized flare kurtis, straight cut fitting kurti and tulip cut kurtis. You don't have to wear bottoms with kurti that has this type of heels. For a dinner look, pair a tulip-shaped kurti with cape sleeves with comfortable heels and a matching handbag.
Slit and open sleeves
Open and slit sleeves might be the trendiest fashion styles. If you are not comfortable wearing off shoulder and sleeves dresses, you can go with these sleeves. Open sleeves have cuts on the shoulders and covered up to the hemline of the sleeve. Slit sleeves are long with an opening running down from the shoulder to the wrist or the hemline. These sleeves can fit women of all body types and shapes.
Slit and open sleeves are indo-western styles that go well with straight-cut kurtis. You can pair a straight cut kurti designed with slit sleeves with a pair of pompoms or basic heels for an elegant formal look. You can wear this to work, meetings and social gatherings.
Bishop sleeves
They are designed to be narrow from the shoulders, and form a long puffed sleeve from the elbow to the wrist. This design can fit women with a slim body type. On a kurti, it creates a trendy casual design.
You can wear a straight cut fitting kurti with bishop sleeves and sandals for a branch, casual meeting or a stroll on the beach. You can also pair this outfit with heels for a formal look.
Conclusion
A simple sleeve can tell a lot about you and your style. When buying a kurti, make sure the design of the sleeve complements your outfit and your body type. Sleeves have the ability to make your outfit look sophisticated, trendy, fierce and chic depending on how you dress them.