Spice up your life with the best of taste! Set your tummy on a roll with all the hot spicy chili garlic noodles. This is one of the many Chinese foods that indulges most of us. The aroma and the spicy taste will set your tongue to salivate with just the glimpse of it. The noodles lovers know where to get it, but very few of them know how to prepare it.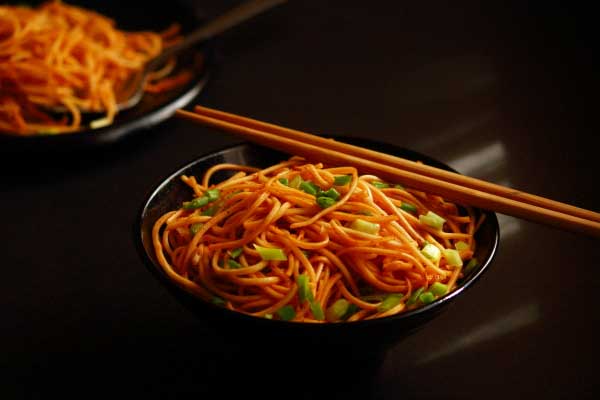 The easy and quick recipe is not known to everyone.No worries! We have come up with all you need to prepare for it. Just a few easy steps and the dish is ready to be served on the table right at your place. Give it a try and see how delicious it turns out to be.
Ingredients
How to make it?
For 2-3 servings,the following quantities of the right ingredients would suffice.
INGREDIENTS
200 grams of noodles
2 tablespoon of oil
1 tablespoon of finely chopped ginger and garlic
3-4 red chillies broken into smaller pieces
One cup of shredded cabbage
One lengthwise chopped carrot
Two cups of nicely sliced capsicum
Salt, sugar, soya sauce according to taste
2-3 tablespoons of chilli garlic paste
A handful of finely chopped onions
For Garnishing,one handful chopped coriander leaves and spring onions
You need not go shop to shop to get all the ingredients assembled for your dish.Buy online and avail big basket coupons and get them all delivered straight in your kitchen.Save time and save money with quality promising to health.
Procedure
The following steps will guide you to make this easy and scrumptious dish.
Step 1- Take lots of water in a pan and bring it to boil. Add into it a pinch of salt and the desired quantity of noodles to be cooked till it softens. Follow the directions written on the package for the noodles. Once the boiling is done, drain them. Rinse them in cold water. Drizzle some oil on them, toss them nicely and set them aside.
Step 2- Take the spring onions, chop them nicely and transfer them in a bowl. Grate the carrots lengthwise and keep them aside after transferring in a bowl.
Step 3- Now take a wok and add some refined oil in it. Heat it over moderate flame for a few minutes. Avoid overheating. Now add some of the chopped spring onions, shredded cabbage, grated carrots, capsicum,garlic-ginger paste, salt and chili garlic paste and saute them well. Stir them well to ensure thorough mixing.
Step 4- Now transfer the cooked noodles to the same work and mix all the ingredients present nicely for about 5 minutes. After combining, toss them well, cover the wok with a lid and cook for 3-4 minutes over a very low flame.
Step 5- To enhance the taste and aroma, you can also add some soya sauce and green chillis if you are spice junkie.
Step 6- Once it's over, garnish it nicely with coriander leaves and spring onions. Chilli garlic noodles taste the best when served hot.
Making hot and spicy noodles can be pretty easy if you follow these instructions step by step. Serve the goodness on your table with a tinge of love.
Nutritional facts
Though delicious but serves minimum nutrition for the food. Fast foods are, no doubt, high in carbs and calories. It gives around 250-300 calories per serving with no dietary fiber content in it. To make it a bit healthier, you can increase the vegetables and lessen the spices. This dish is one of those time- saver foods that are not only incredibly delicious but also satiate your need of a meal on those weeknights when you can't wait to have something hot on table instantly.
So will you try this? Why not when it's simple and easy and delights your tongue like the other Indo Chinese foods. The great flavor spices and the great mix of vegetables make it quite tempting to the tummy. This scratch and ready meal in 15 minutes is just the dish to go if you are bored of cooking and want something hot and spicy.