What comes to mind when you think about cryptocurrency trading? The trade is painted as a fast means of making profits and the next big thing in the world of investments. While there is a fair amount of truth behind this, cryptocurrency trading is not as straightforward as you would think. It requires a constant commitment to creating well-analyzed trading strategies to ensure profits.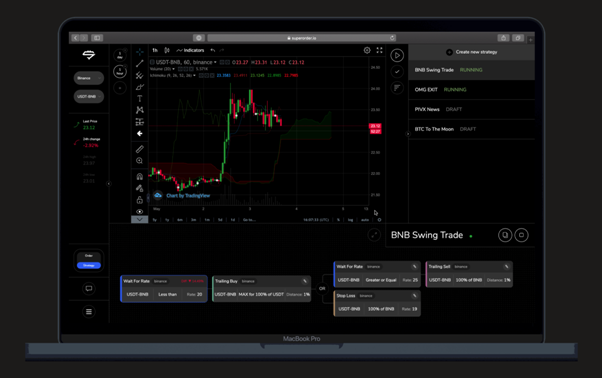 Besides, the cryptocurrency market is highly volatile. The value of crypto coins fluctuates in double digits, creating a wild web of arbitrages and options for traders to benefit in. Traders have to commit long hours studying the market, analyzing profitable opportunities, managing their portfolios as well as creating trading strategies, and testing them against historical data for better forecasting.
With so much to do, traders rely on the efficiency of trading terminals to help them loop such recurring activities. Today, we take you through a comprehensive review of Superorder, an API-based crypto trading terminal that promises to increase your trading efficiency through its automation power.
Overview
Superorder is a web-based platform that grants traders access to crypto exchanges via an Application Program Interface (API). Superorder currently supports Binance, Bittrex, BitMEX, and CEX.IO exchanges, with support for more exchanges coming soon. From the terminal, traders can access all trading information from the connected exchanges and manage their trading from there.
For successful trading, traders rely on analytical charts to create trading strategies. These help them to secure unrealized profits and minimize their rate of loss. Superorder gives traders the beneficial opportunity of creating custom trading strategies. Once the trading strategy is created, Superorder takes over the trading. With its automated engine, it buys and sells cryptocurrencies when the desired parameters are met and continuously provides useful analytical charts for traders to refer to when adjusting these strategies.
The Power of Automation
Advanced traders working on two or more crypto exchange platforms find it difficult to perform market analysis, strategy development, and portfolio management for each of their exchanges. Superorder makes life easier by providing a central platform from which they can monitor their exchanges and fully automating the repetitive actions performed by traders. It benefits traders in the following ways:
Efficient and Accurate Automation
The human mind has a limited ability to handle the bulk workload and maintain high levels of accuracy. Market analysis and portfolio management is an involving activity which could lead to erroneous results if the information is incorrect. Superorder makes the entire process efficient and accurate as it relies on programmable orders.
Comprehensive Analytics
Trade forecasting relies on the level of comprehension derived from past data. Since crypto trading is relatively new, not every terminal has the ability to collect information for analysis and decision making continuously. However, Superorder is fully automated and able to collect data from multiple exchanges over the years and present traders with comprehensive extended analytical charts for decision making. Traders can then test their trading strategies against such analytics and improve their chances of realizing profits.
Reduced Chance of a Human Error
Complete automation of the trading process eliminates human error. Superorder relies on the set parameters programmed in the strategies to trade on your behalf. For instance, Stop-Loss Orders protect traders from trading below their desired loss limit. Profit targets, on the other hand, allow a trader to safely secure their unrealized profits once they are achieved, eliminating any chance of losing them due to emotionally-driven trading.
Super Features from Superorder
Automated Strategy Builder
Trading strategies are sets of programmable instructions that guide a terminal on how to trade on your behalf. They are, however, complicated to develop, especially for traders with zero experience in programming. Superorder provides users with a simple strategy builder, whereby traders can drag their parameters and drop them in the respective designated models. The strategy builder then automates the execution of the following orders:
Actions – these are instructions that are automatically executed when the parameters are met. They include Market Buys/Sells, Limit Buys/Sells, Stops, Trailings, Notify, etc.
Conditionals – these are parameters that trigger the actions. Examples include Wait for Rate, OR Fork, AND Fork, Rate Change, and technical indicators: MACD and RSI.
Crypto investors, both pros and amateurs, can benefit from this automated strategy builder and enjoy the hassle-free trading.
Super Trade
For traders who have no idea on how to create a trading strategy, Superorder comes to the rescue through its super trade feature. Super Trade is a useful feature that builds trading strategies on a trader's behalf.
In this case, a trader only needs to specify the amount of crypto coins to purchase. The tool automatically creates a market or limit buy order depending on the market conditions and manages the trade through Take Profit requests and Stop-Loss orders. Get all the information on how super trade can benefit you on our Super Trade Basics.
Advanced Trading Bots
Automation is made possible through the incorporation of crypto trading bots. Superorder grants traders' access to trading bots with verified trading plans developed by the team for greater automation power. You can choose between the following trading bots:
Cherry Pick Pot – a trading bot for making long trades at ₿ 0.015/mo.
Happy Hammer – a trading bot for making short trades at ₿ 0.009/mo.
Milky Scalper – a trading bot for scalping, going for ₿0.01/mo.
Learn more about the trading bots here.
Other Benefits for Traders
Trading on Superorder grants you access to rare tricks that can set your trading apart from the competition. They include:
More orders – while normal exchanges only allow basic orders, Superorder lets you place extra actions/conditions, including Trailings, Forks, and hidden orders.
Portfolio tracker – users don't need to visit exchanges to track the performance of their portfolio. With Superorder, they get access to assets from one platform.
Sandbox mode – the feature allows traders to test their strategies in the real market using demo money. It is useful for checking efficiency without incurring any risks.
Parting Shot
For a relatively new market, Superorder terminal provides traders with all the arsenal they need to battle out their profits in a volatile cryptocurrency market. Its extra features give traders a better chance at making profitable trades while minimizing their losses. You will, however, only be limited to BitMEX, Binance, Bittrex, and CEX.IO exchanges, with support for more exchanges expected to come soon.
Keep track of new unfolding features on the official blog.