Cristiano Ronaldo's Open Letter to all his fans around the Globe
This week has been the hardest week for the Real Madrid fans. Cristiano Ronaldo finally transferred and now joining Juventus on a 4-year deal. Ronaldo had joined Real Madrid from Manchester United for £80m in July 2009 and scored a club-record 450 goals and won the Ballon d'Or – awarded to the world's best footballer – in 2008, 2013, 2014, 2016 and 2017. He has helped them win the Champions League in four of the past five seasons, scoring in the 2014 and 2017 finals.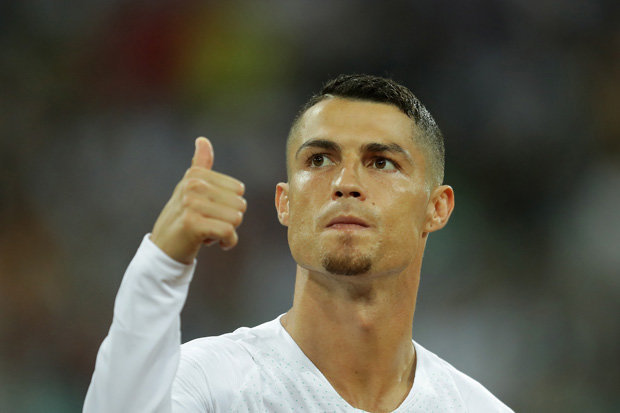 The Real Madrid acknowledged his contribution towards the club and said, "For Real Madrid, Cristiano Ronaldo will always be one of the great symbols. Real Madrid wants to express its gratitude to a player who has proved to be the best in the world and who has marked one of the brightest times in the history of our club and world football. Real Madrid will always be your home".
In his response to the official announcement, Cristiano Ronaldo penned down a farewell letter for all the fans and club. Same as quoted:
The years I've spent at Real Madrid and in the city of Madrid have possibly been amongst the happiest of my life.

I have only feelings of great thanks towards this club, these fans, and this city. I can only but thank all of them for the kindness and affection I've been shown.

However, I believe that the time has come to embark on a new chapter in my life and that's why I asked the club to allow me to move on. This is how I feel, and I would ask everyone, in particular, our fans, for their understanding.

I've had nine absolutely marvelous years here. They've been nine unique years. It has been an exciting time, full of success, although they've also been tough years because the demands at Real Madrid are extremely high, I know very well that I'll never be able to forget how I've enjoyed my football here in such a unique way.

I've shared the pitch and dressing room with some amazing teammates, I've felt the affection of an incredible fan base, and together we lifted three successive Champions League crowns and won the competition four times in the space of five years. Alongside these successes, on an individual level, I've had the satisfaction of having won the Ballon d'Or four times and the Golden Shoe on three occasions. Everything during my time at this club has been amazing and extraordinary.

Real Madrid have captured my heart and those of my family members and for that reason, now more than ever, I want to say thank you: thanks to the club, the president, the club's directors, my teammates, all of the coaching staff, the doctors, physios and the incredible staff who ensure that everything works as it should and tirelessly take care of every single detail.

I want to give infinite thanks to our fans once again and also to Spanish football. Over the course of these exciting nine years, I've come up against some outstanding players. I have respect and recognition for all of them.

I've given things a great deal of consideration and know that it's time to embark on a new chapter. Despite me now leaving the club and regardless of where I am, I'll forever continue to feel an allegiance towards this shirt, this badge, and the Santiago Bernabéu.

Thank you all and, of course, just as I said nine years ago when I first set foot inside our stadium: Hala Madrid!
Juventus sign Real Madrid forward Cristiano Ronaldo for £99.2m
Cristiano Ronaldo, Real Madrid's forward, has agreed a four year deal with Juventus, an Italian club, becoming fourth most expensive players of all time after Neymar (£200m), Mbappe (£166m) & Coutinho (£142m). A deal worth 112m euros (£99.2m) has been finalized between the two clubs Real Madrid and Juventus. And for Juventus, this is the highest signing of the club. Earlier they paid Napoli £75.3m for Gonzalo Higuain.
Juventus are set to play Real Madrid in a pre-season International Champions Cup tournament on Saturday, 4 August at FedEx Field in Washington, United States.
Juventus had reached the Champions League final twice in the last four years and lost both. One of those defeats was to Ronaldo's Real Madrid. He scored in the final in Cardiff, and he knocked them out in the quarters this year. They believe he is the difference and the player who could achieve the Champions League with Juventus for the first time in 23 years.
Juventus' share prices on the stock exchange sky-rocketed by 33% even before the deal was finalized. Juventus are hoping to be one of the richest clubs in the world along with Real, Barcelona, Manchester United. Currently, they are in 10th position.
Who is next for Real Madrid?
It no denies that Real has been phenomenal in the past five years. The club showed complete dominance in Europe, winning Champions league title 4 times in 5 years, more to that winning consecutively three times, says the culture of the team. However Real has struggled domestically, finishing 17 points behind champions Barcelona last season.
Real are hopeful under new manager Julen Lopetegui that joined the club on the eve of this year's world cup. The 33-time La Liga winners have been linked with a move for Paris St-Germain's 26-year-old Brazil forward Neymar. Real have also been linked with a move for another PSG forward, Mbappe, the 19-year-old who has helped France reach the semi-finals of the World Cup.
No one knows the exact thing, whom the Real is going to sign next. But since they lost a player in the form of Cristiano Ronaldo, they have had the backup lined up, be it Kylian Mbappe of PSG, Eden Hazard of Chelsea or Harry Kane of Tottenham.
A STATS OF CRISTIANO RONALDO's career
450 goals for Real Madrid in 438 games.
311 goals in La Liga.
105 goals in Champions League, which also included 17 goals- his record in champion league season 2013-14. 16 goals in a 2015-16 season and 15 goals in the most recent campaign 2017-18.
16 – major trophies with Real Madrid, including two La Ligas and four Champions Leagues, three Club World Cups and three European Super Cups.
44 hat-tricks for Madrid including a club-record 34 in La Liga.
Eight times he scored four or more goals in a Real match. That included five-goal league hauls against Granada in 2014-15 and Espanyol in 2015-16.
61 goals in a single season for Real Madrid in all competition, which is his personal feat came in 2014-15 season.
659 – total career goals, including 5 for Sporting Lisbon, 118 for Manchester United, 451 for Real Madrid and 85 for Portugal.
Data courtesy: BBC news